How to Cook Quinoa
Cook quinoa as instructed on the package or:
Combine 1 cup red quinoa & 2 cups water, bring to boil, turn down heat and simmer for 15 minutes or until water absorbs.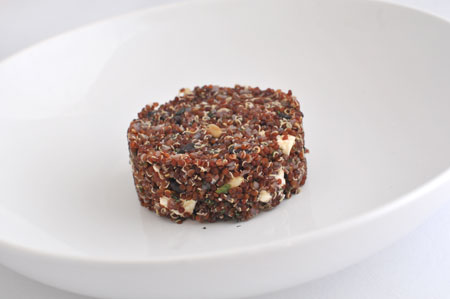 Ingredients:
Black beans ¼ can
3 springs of freshly chopped mint
½ cup of feta cheese
¼ cup of chopped green or kalamata olives
1 – 2 tbsp toasted pine nuts
1 tbsp of freshly chopped dill or green fennel
½ tsp salt
Pepper to taste
Let the quinoa cool for just a few minutes. Toss all the ingredients together with quinoa and season well with salt, pepper or a squeeze of lemon juice. Serve with flaky white fish like cod or halibut, chicken or a vegetarian course.
Tips & Tricks:
Watch out for salt and add it slowly – both olives and feta cheese are salty and will add flavor to quinoa salad once they are mixed in.
Add a splash of olive oil or balsamic vinegar or both to the salad – experiment with flavors and herbs you like.