How to cook Lacinato Kale
I have been experimenting with cooking Kale for a few years now and keep finding it to be one of my favorite green vegetables for side dishes, salads or even stand along dishes like the suddenly popping up everywhere kale chips that are in every health store in town these days. This bitter green seems to be much less common than other standard salad or side counterparts like spinach, arugula or Swiss chard, but is extremely versatile and is very easy to make.
One of my favorite ways to cook Kale is simply boiling it in water with a dash of vinegar and a pinch of salt for no more than 4-5 minutes, as in this kale and seaweed recipe below. Then you can dress it up more or less with anything you like from simple oil and lemon to nuts, chili flakes or anything that you might enjoy.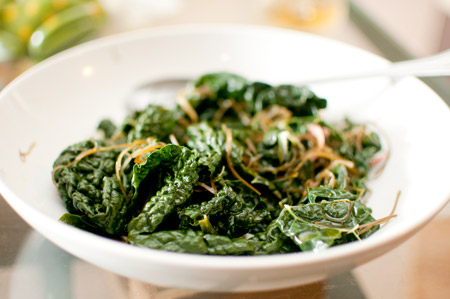 Ingredients:
1 Bunch of Lacinato Kale
1 Tablespoon of dry Seaweed
few slices of pickled or fresh ginger
Tablespoon of sesame oil
Juice of ½ Meyer Lemon
Optional: Sesame seeds, Chili flakes
Take a tablespoon of dry seaweed, put it in a cup and reconstitute it by pouring boiling hot water over it. Let it stand for 5-10 minutes.
Meanwhile, in a 3-4 qt saucepan bring ½ of a pot of water to boil. Add a dash of salt and a tablespoon of vinegar and add Kale. Boil no longer than 4-5 minutes. Drain in the colander, making sure there is no access water left.  Add reconstituted seaweed and thinly sliced ginger on top and squeeze lemon juice over kale and dress with sesame oil. Additionally, you can sprinkle toasted sesame seeds and / or chili flakes over this dish.
Tips & Tricks:
Do not overcook Kale – it will turn rubbery and chewy as well as loose its' color. You need to use a dash of vinegar in your water and dress with lemon first to prevent kale from discoloration.
You can get dry seaweed in Whole Foods or any local Japanese store. You don't have to use seaweed – skip it altogether and use olive oil instead of sesame.
I usually serve this for dinner with pan-roasted halibut, salmon or other fish and seafood. It also works very well as a side to a slice of pizza