Here in California, salads are fun to experiment with because there is such a tremendous availability of fresh vegetables. Let me put it this way – we have it good here: when I lived in Europe the only type of salad you could eat was potato salad.
My main principles for making salad are: use different ingredients every time you make salad (improvise), have fun pairing leaves with other ingredients, understand which textures are similar and which are different and bring both into one bowl, and also be aware of strong flavors and keep those to one or two at most to avoid clashing. Vinaigrette is the soul of your salad – think about what goes there before you make it. (Examples: If it's an Asian-slaw you are making, you might want to consider a few dashes of toasted sesame oil, if leaves are coarse and crunchy (like romaine) some mustard and fresh herbs would do it good, and if leaves are soft and buttery, then use high quality, peppery green olive oil, etc)
The soul of this salad really lies in the simplicity of its vinaigrette (dressing), and the well thought out textures of the ingredients. Here I pair buttery baby lettuces, toasted pine nuts and the smoky flavors of grilled avocado with rich olive oil and a dash of high quality mandarin flavored balsamic. I add a little crunch to this salad with paper-thin slices of radishes and a few grinds of black pepper. The vinaigrette here (which, as mentioned earlier, gives SOUL to your salad) is primarily olive oil with just a few dashes of high-quality balsamic – a very simple vinaigrette (proportions are important, usually 3 (oil) to 1 (vinegar).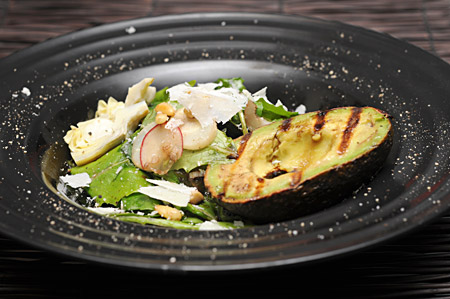 Ingredients:
Grilled Avocado ½ per person
Radishes, razor thin sliced
Hearts of Palm, thin sliced
Baby Lettuces
Toasted pine nuts
Artichoke hearts (optional)
Shaved Parmesan Cheese
Grilling Avocado:
Generously brush sliced in half avocado with olive oil and then add it green side down to a well-preheated griddle or grill. Keep on a grill for 4-5 minutes letting avocado brown well. Meanwhile toss leaves, radishes, hearts of palm and pine nuts into a bowl, then gently mix together. Add vinaigrette and toss a few more times. Flip avocado on the other side and keep on the grill for a few more minutes. Plate your salad in small bowls and arrange avocado on the side of the plate. Shave large but thin pieces of Parmesan on the top of your salad. Add a few dashes of balsamic, olive oil and a pinch of salt to avocado. Smoked salt works particularly well.
Tips & Tricks:
Grilling avocado is a must here – that's where the flavor of this otherwise mellow and gentle salad comes from. Pine nuts are important as well – they add both great texture and flavor. Believe or not, salt really matters when added to avocado.
Vinaigrette is the key: use high quality, rich oil and smooth flavorful balsamic, restrain yourself from adding other stuff to it (like mustard, shallots, etc – other classic vinaigrette favorites) Simplicity is indeed the way to go. (Read Marcus Aurelius if you think I am kidding)